Sist oppdatert 10.07.2017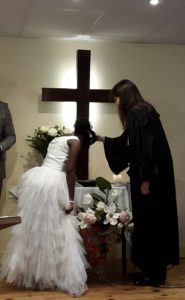 For a reminder, the church in Créteil was planted two years ago,  in 2014.  The community is steadily growing and  we have had the joy of experiencing  our first confirmations and baptisms in 2016.   Three young people were confirmed on Pentecost Sunday in May.   And our first two baptisms took place in July and September.  The first person to be baptized was a small one year old boy, Jayden.  And the second person was a 10 year old girl, Rébéka, who had asked to be baptized. These different occasions were filled with great joy for the families of the baptized as well as for the members of our young church. Our church musicians were faithfully present for the ceremonies and accompanied  worship songs from France, Madagascar and Cameroon to praise God for these new children in His church.
As Christmas is drawing near, we will soon be starting the preparation of the Christmas services with the children and youth of the church.    This is also a special time to witness in the neighborhood where we are located.   On the second Sunday of each month, we have an open doors service which begins outside, in front of the center, with church members serving coffee to those who pass by.  Free pamphlets of the gospels are also available.
Thank you so much for your prayers and support.
Tekst: Mary Schwartz Rakotovao