Every talent is GOD gift
Sist oppdatert 10.02.2020
People always say that everyone is gifted at something, it could be obvious or hidden. But what is sure is, people usually think about really common skills when hearing the word "TALENT", for instance singing, playing instrument, dancing, drawing, being terrific at sport, in general about things that blow the mind, touch the soul, give chills and impress at the first sight.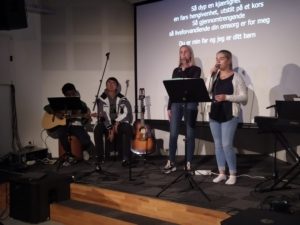 In the band I am part of, five of us fulfill the very common and typical roles of band member which are singing and playing. But behind the scene, another guy dedicates himself as much as we do or even more. He deals with the light and sound system, that play an indispensable and active role in our performance and show. In every rehearsal or performing time he comes earlier than everyone to set up all the materials needed and get everything ready before we come, such as microphones, cables, monitors, microphones stand, lights and many others, and arranging back them when we are done.
But his role is way more than just coming early and moving things, it requires certain qualification and skills and it is the bedrock of our performance. He deals with many buttons on the mixing boards to ensure that the sound quality is perfect and make the band and the auditors feel comfortable. He is quite skilled in this area and his uses it for the sake of the band and to serve others.
Skills can actually appear in different aspects but no matter how different, unique and original your skill could be you should use it to serve other because every talent is God's gift.
1 Peter "Each of you should use whatever gift you have received to serve others as faithful stewards of God's grace in its various forms.