Waiting for the new year in a Camp
New year eve means family time especially in Madagascar.Here, I discovered that you can enjoy it as well with friends by spending time with more than 50 people in a Christian camp,having fun,worshiping together and learning more about Jesus.
Sist oppdatert 10.01.2020
I discovered a new way to celebrate the new year with 4 other Hald students a week ago.  We attended the "New year camp of NMS" and it was a nice experience.
It was amazing  seeing 46 young people choosing to be away from their families during exactly this period to be with their friends in a Christian camp at Mesnali.We spent together more than 4 days having fun together,praying,singing,learning about the bible in group,contributing into the missions work with their own way,…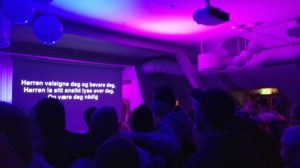 The theme during this camp was"Jesus holder"which literally means Jesus hold but in Norwegian it means a lot of things.The topic of all the gatherings was focused on all the meaning of the topic but the main focus was about jesus,faith and life.
Hald people participated as leaders during the whole camp but our must interesting task was to talk about "mission" (it was Anjara's task) and managing one seminar , we organized a quiz about Brazil,Madagascar and NMS.The participants said that they were satisfied and we had fun as well.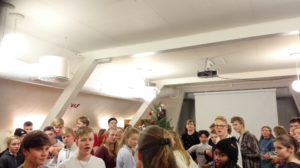 I had one of my best moment when Anjara had a presentation about mission and talked about UTEAM and its project called "Mampiaty".
I was amazed by the enthusiasm of all these young people when it was time to buy the lotteries to finance the project "Mampiaty" for the death and blind's school in Madagascar.We could barely provide enough lotteries for everyone during the first round because some bought more than 20 lotteries and we did not have any left for others.For this "Bazar",the leaders asked the  same participants to bring little things or presents but still those young people was in hurry and excited to buy as much as possible in order to try to win the stuffs that they brought themselves there.I was touched by their enthusiasm at this moment and hoped in silence that all of them was aware how important their actions was,that they made a difference for death and blind children in Madagascar and especially that at the age of 14 to 17 years old they have already started their "Mission" by sharing thing and time.