Slettenbakken Kirken – Home sweet Home
Every churches are our father God's home. It is necessary that the children feel home in their father's home so everyone should feel home at any church and I found this feeling at Slettenbakken church in Bergen.
Sist oppdatert 18.12.2019
I have spent almost 3 months here in Bergen now and some part of my internship are focusing on activities at Slettenbakken church. I experienced a brand-new face of church through this culture that I did not know before. You can imagine that different culture means: different point of view, different ways of doing things and different perception of  "God's house".
Slettenbakken church got the idea that God is inviting all his children to join his home and find peace there. The church is doing all its possible to make sure that people find literally peace and feel home in the church through all its activities and services.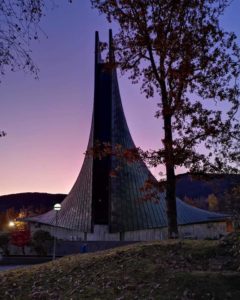 The structure is quite big, and it is possible to receive a lot of people there. The structure of the church makes possible that we can do a lot of activities at the same time because apart from the main room where they have services, the church contains different rooms.
Everyone is welcomed there from babies to old people, the church settled the appropriate activities for all ages, it starts with "barnesang", amigos ,KRIK,  "pust I bakken" , " supper Torsdag"… to open church apart from the classic activities that you might have in any other church.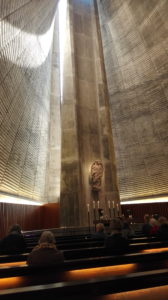 The church is among the churches who have agreements with NMS in the region of Bjørgvin and it chose to just focus its mission work on one church in Madagascar which is more concrete instead of having a lot of partnership with different churches.
During my interview with the deacon, Bergfinn,  in the church. I asked what inspired the church to be so open and making people feel home and welcomed and he mentioned two things from the new testament, the good Samaritan and the story of  a Samaritan woman who met Jesus in John chapter 4 and he referred to one picture of Jesus sitting down and looking up to the woman on the wall of his office. This picture shows in one glance the way how the church works,how they help people in the neighborhood, its missionary activities and the work of Diakonia.