How to socialize in the church?
Sist oppdatert 13.12.2019
I have been in Norway for quarter a year. It has been a lot of ups and downs and I have grown so much from what I experienced and challenged through these three exceptional months. This first two months of internship has been quite a lot of observation, one of my observation focus is the church fellowship building in ålgård church.
Devoting a part of their time to socialize and interact with others seems to be a valuable moment in Norwegian community, at least that what I observed. People create the opportunity to share time with others in many different ways according to the bond linking them and the age group they belong to. I spent my internship period mostly in ålgård church, and noticed a few activities that are based on promoting fellowship building, and enticing people to socialize and spend time together for all age range. One of the most known Norwegian fellowship time is the after church, I do not know its roots but it seems typical Norwegian to me because I have never seen or heard it happening in another country a side from Norway. It is an enjoyable moment where people chat, get to know each other better in having cake and different drinks for the length of an hour. It is a moment where people approach one another hesitationless. And it is very wide spread in Norway.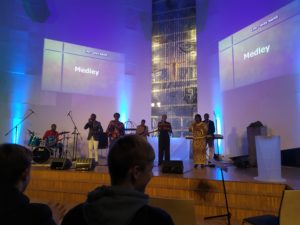 I love being part of it, having short or long talk with people, feeling the vibe and noise from people talking, seeing people smiling at each other, showing a total opposite character of how people usually behave outdoors. It is one of my favorite moment in the church. Noise is often referred to disturbance but, in this moment, it symbolizes warmness and connection.
Children and teenagers also have their respective fellowship time in the church, which is " Fin fredag" and "Youth church" which are more focused on playing different games. Hundreds of young people and children are involved and share time together. For the very first time I saw it in the church, I was a bit confused and did not perceive the main purpose. My thinking stuck with the standard of my home country concept of church in which church is a praying place only. Therefore, it took me a little time before figuring out that those children were building up connection through the game they have and feeling comfortable from the hospitalizing atmosphere in the church.